Haus Mühlengrund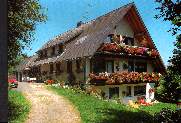 Welcome to Haus Mühlengrund!
Our house is situated in Altglashütten, part of Feldberg community. At 1000 m above sea level, you'll find yourself in the most beautiful part of the upper black between Feldberg mountain and Titisee und Schluchsee lakes.
Altglashütten having been founded by glass-blowers a long time ago - giving the village its name -, today offers you city hall, church and "Feldberg-Halle".
Haus Mühlengrund can be found close to the centre of the "Dörfle" (litte village), as our community is called thoughout the black forest. Although quiet, it will take you just a couple of minutes to get to the shops in the centre of the village, an the distance to the railway station is short as well, in case you want to take a trip to the Titisee with Dreiseenbahn railway. The Altglashütten skiing lift kann be reached per pedes as well. And to get to the slopes of huge Feldberg skiing area will take you less than a quarter of an hour by car - or do you prefer to use the free shuttle busses?